Source Tanjug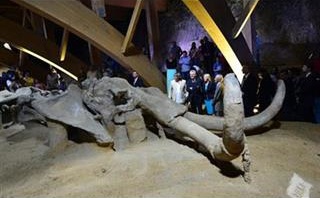 BELGRADE – Serbian President Tomislav Nikolic opened on Monday the Mammoth Park, part of the Viminacium archeological park near Kostolac, underlining that the site provides an unusual and modern way for young people to learn about ancient history.
The president invited the young to make the most of this remarkable classroom – playroom and "be the participants and the creators in the process of knowledge acquisition, as modern pedagogy demands".
The U.S. Ambassador to Serbia Michael Kirby welcomed the opening of the Mammoth Park, noting that Viminacium has become an exceptional location that will attract tourists.
He added that around USD 400,000 were allocated to Viminacium from the U.S. Ambassadors Fund for Cultural Preservation.
The Viminacium archaeological site celebrated the one millionth birthday of the female mammoth Vika and her younger "relatives", the oldest residents of the European continent whose skeletons were preserved.
The mammoths discovered in Viminacium are displayed in the layer of sand where they were found, and the visitors are walking the same loess sediments as the mammoths did millenniums ago.
Photo Tanjug, N.Jovanovic