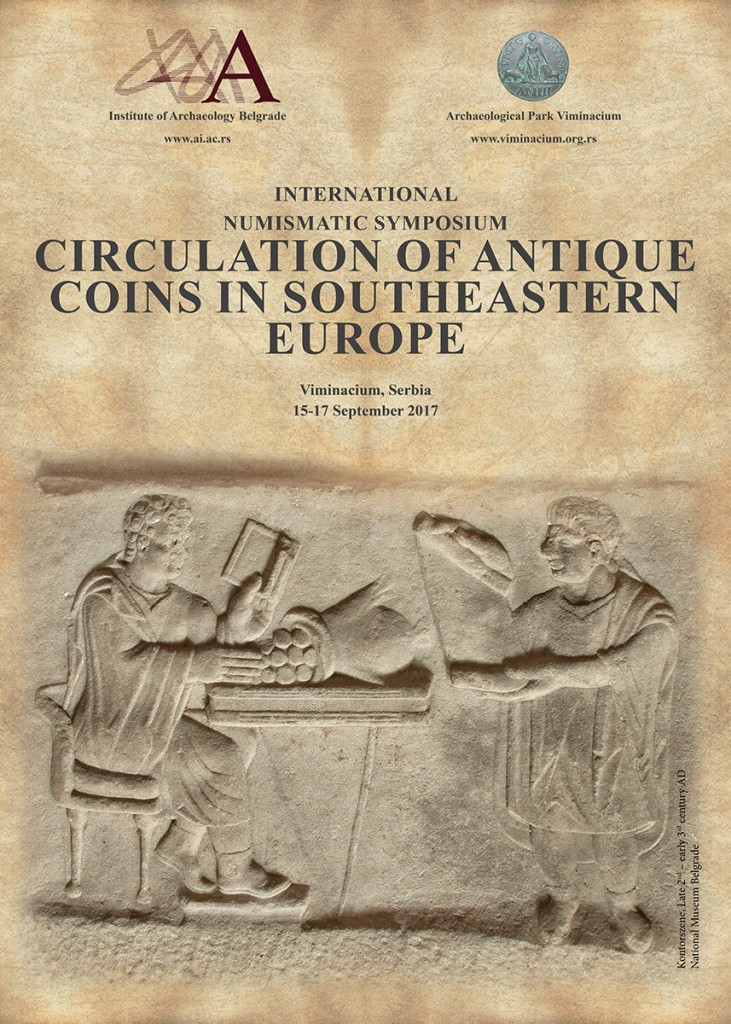 Institute of Archaeology is pleased to announce the International Numismatic Symposium – Circulation of the Antique Coins in South-Eastern Europe, which will be held at Viminacium from September 15th to 17th, 2017 (arrival day September 14th).
The topic of your paper should be focused on a subject targeting Circulation of the Antique Coins (Greek and Roman; imperial or provincial) in South-Eastern Europe.
We shall be very pleased to hear your presentations. We kindly ask you to send your applications and abstracts (up to 300 words) until 1st June 2017. Please send them to the following e-mail adress:
viminacium.symposium@gmail.com
The official language of the symposium is English.
Presentations should not be longer than 15 minutes.
Board and lodging shall be provided for all participants.
All of the presentations shall be published within the symposium acta.
Contact:
viminacium.symposium@gmail.com
Mirjana Vojvoda, Ph.D. (Secretary of the Organizing Committee) +381648098543
Travel
For the transport from Belgrade airport to Belgrade city centre you should take either the minibus A1 (EUR 3) or bus No 72 (EUR 0,7) or a taxi for which you will need approximately  EUR 10 to 15.  For all information about route map and timetable please visit website:
http://www.beg.aero/en/strana/8811/autobus
On arrival day, September 14th, in the afternoon hours (4 or 5 P.M.) in Belgrade city centre (Kalemegdan) bus for Viminacium will collect all participants. On the last day of the Symposium, 17th September, all participants will be transferred to Belgrade city centre by bus.
To all of the other participants, who will come later than 14th September, car transport from Požarevac is provided. Buses from Belgrade main bus station to Požarevac are scheduled every hour. Transport costs to Serbia are individual, and organization of the symposium does not provide or refund them.
Accommodation
Since Viminacium has its own accommodation with single, double or triple rooms, all participants will be placed in rooms by their chosen partner, notified in application form. Also, all meals (breakfast, lunch, dinner) during the whole conference are provided and special requests considering food should be notified in application form.
For all information about Archaeological park Viminacium please visit our website:
We are looking forward to see you in Viminacium.
Organizing Committee:
Miomir Korać Ph.D. Director of the Institute of Archaeology
Bojana Borić-Brešković M.A. Director of the National Museum of Serbia
Vujadin Ivanišević Ph.D. Institute of Archaeology
Mirjana Vojvoda Ph.D. Institute of Archaeology